Dr. Shahine is a board certified reproductive endocrinologist currently practicing at Pacific NW Fertility and IVF Specialists in Seattle, WA. As clinical faculty in the department of obstetrics and gynecology at the University of Washington and the Director of the Center for Recurrent Pregnancy Loss at PNWF, she is committed to providing excellence in patient care, teaching the next generation of women's health providers and continuing research in fields of fertility and recurrent miscarriage. She serves on the board of Babyquest, a non-profit organization which donates grants to fertility patients who need help with treatment costs.
Dr. Shahine is passionate about writing. She is a regular contributor to the Huffington Post and other blogs and has authored two books. In 2015, she co-authored Planting the Seeds of Pregnancy: An Integrative Approach to Fertility Care with Stephanie Gianarelli, Lac. Planting the Seeds is a step-by-step guide to fertility evaluation and treatment from both Western and Eastern medicine approaches. In 2017, Dr. Shahine published Not Broken: An Approachable Guide to Miscarriage and Recurrent Pregnancy loss. Not Broken is an evidence based but easy to read guide for anyone who wants to learn more about the evaluation, treatment, emotional impact, and concrete steps to decrease risk of miscarriage.
Facebook @drlorashahine, Instagram @drlorashahine, Twitter @lorashahine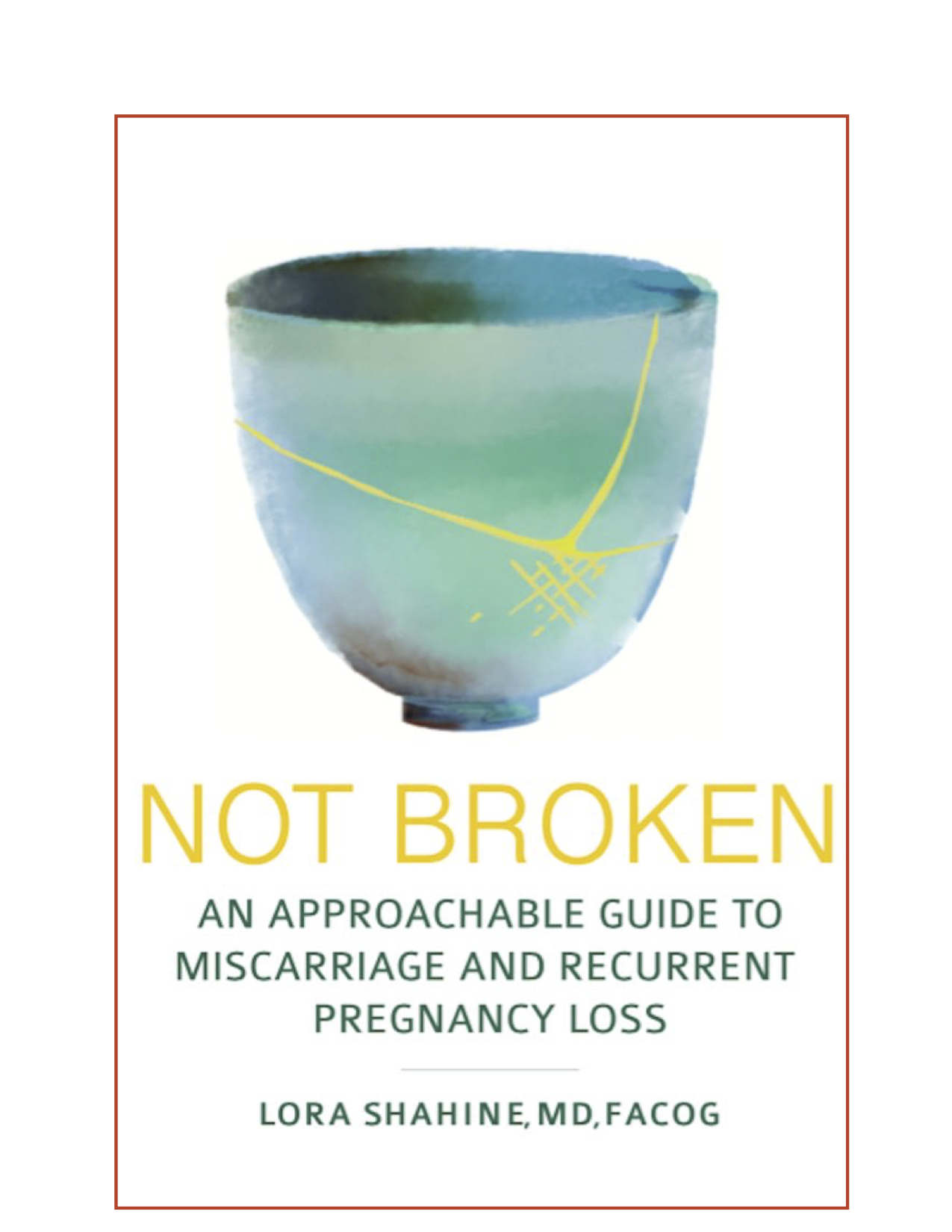 Not Broken is a comprehensive, evidence-based but easy-to-read guide for anyone who wants to understand all aspects of miscarriage and recurrent pregnancy loss. Whether you are a patient struggling with miscarriages or a medical provider caring for patients with recurrent pregnancy loss, you will learn something from this resource. Dr. Shahine explains not only a typical Western medicine approach to evaluation and treatment for miscarriage but also includes Eastern approaches to care, lifestyle factors that will decrease your risk of miscarriage, and the emotional impact of recurrent pregnancy loss. You will finish this book feeling more empowered to be an advocate for your care and more hopeful than ever to continue towards your family goals.
Order Not Broken in print or Kindle here
Planting the Seeds of Pregnancy is a step-by-step guide for anyone wanting to learn more about fertility enhancement and increasing egg quality from both an Eastern and Western medicine perspective. Stephanie Gianarelli, licensed acupuncturist and Fellow of the American Board of Oriental Reproductive Medicine, and Dr. Lora Shahine, a board certified Obstetrician, Gynecologist and Reproductive Endocrinologist, share their perspectives, experience, and research in both fields. A clear, concise, and evidence-based approach that anyone can understand and utilize.
Order it on in print or Kindle here